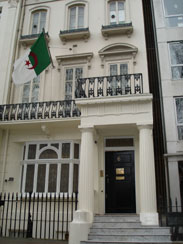 Guest Book




View Guestbook | Sign Guest Book

There are 11 entries in 2 pages

14/01/2007 00:58:24
Rating:
The new website looks good, although not much different or better (for that matter) than the old one. In terms of websites, I believe that the simpler the better - whereas the new one is too flashy and contains a lot of picture and colors in general on the home page. Why use a multitude of font colors on the front page when we can do with just one or two?

I am just communicating to you my humble thoughts as I'm certain they'll fall on keen ears. I think the first version was good because it was nice and simple 'digne d'un site d'une Chancellerie'. This one gives the impression that the desired improvement has focused more on colors and pictures, thus overdoing it. I also think that the chosen URL is 'strange' given that the domain should be that of the Consulate (thus seeming more serious) and not that of 'Lamine4u' which sounds the total opposite.
Hakim Darbouche
no URL given
IP:




Pages: 1 2





Note:


Please use this guest book sensibly, it is checked on a regular basis and any abusive comments will be deleted.