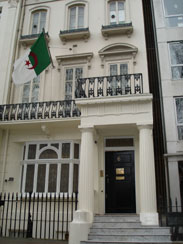 Birth and Marriage Registration - - Last modified: 21 October 2009


- Please be advised that it is in the national's interest not to delay applying for the registration of his marriage and/or his kid's birth.

Procedures and list of documents required for registration of birth or marriages.




The birth of an Algerian child should be registered at the Algerian Consulate and the documents required for this purpose are:

1. Original full birth certificate of the infant (short certificates are not accepted)



Marriage


The marriage of an Algerian National held in a British or Irish Registration Office can be registered at the Algerian Consulate. A Family Book (Livret de famile) is issued after registration. Required documents are:

1. Copy of marriage certificate issued by Registration Office (Marriage certificates issued by Mosque are not valid) 2. Copy of full birth certificate of applicant
3. Copy of full birth certificate of spouse. If the spouse's birth certificate is issued in another language than Arabic, English or French, please provide an official translation (By a sworn Translator) of this document.
4. Application form

Important:

Marriage registration application submitted by an Algerian woman married to a non Algerian husband must be accompanied by a Certificate of Muslim Religion (Certificat de Conversion a l'Islam) issued by a mosque or association agreed by British or Irish Authorities.

Processing Time


The process of either birth or marriage registration takes a minimum of 5 working days.

Notice:
Applications for registration of marriage and issue of family book to be lodged mornings only from 9am to 12 noon.