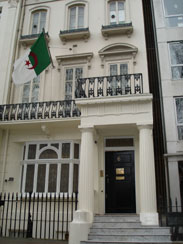 Chamber of Commerce - Last modified: 12 March 2007


Algerian Chamber of Commerce and Industry CACI


Bank of Algeria
National Bank of Algeria



Government Ministries


Ministry of Industry
Ministère de la Participation et de la Promotion de l'Investissement (MDPPI)



Administrations


Société algérienne des foires et exportations (SAFEX)
Office Algérien de promotion du commerce extérieur (PROMEX)
National Office of Statistics



Publications


Algerian Export Directory: (l'Annuaire des Exportateurs Algériens) edited by the Algerian Chamber of Commerce and Industry is now available, click here to download

How to Install AXD:
1- Download AXD.EXE from the above link
2- Start Windows Explorer and locate AXD.EXE on your local hard drive or a Network drive.
3- Double Click on the file AXD.EXE and type the folder location where you would like to unzip the installation files.
4- Locate the file setup.exe and double click to start the installation of The Algerian Export Directory.