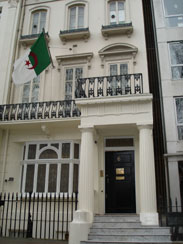 Processing Time - Last modified: 21 October 2009


1. The processing time may vary according to the nationality of applicant and visa type. However visas submitted in person are generally issued within five working days*.

2. The processing time for the visa applicationssent by mail is, at least, ten (10) working days.

*During certain periods of the year (Summer holidays, New Year's holidays, Ramadhan, Eid celebrations)the processing time may vary and can take up to 10 working days. This is due to the high volume of applications being processed.






Nationals from the following countries do not require a visa to travel to Algeria:

Libyan Arab Jamahiriya, Malaysia, Maldives, Mali, Mauritania, Morocco, Democratic Republic Sahraoui, Seychelles, Syrian Arab Republic, Tunisia, Yemen.

Nationals of the States mentioned below, holding Diplomatic and Official Passports (passeports de service) do not need a visa to travel to Algeria:

Turkey, Switzerland, Ethiopia, Brazil, Peru, Venezuela, Malysia, Egypt, Mali, Mexico, Niger, South Africa, Italy, Republic of Corea, Senegal, Slovakia, Benin, Vietnam, Cuba, Malta, United Arab Emirates and Guinea.
Spain (with effect from 31st January 2008)

Holders of Diplomatic Passport from Germany, France, Argentina and Romania are exempted from the visa to travel to Algeria.






1. The Consulate will process visa applications made by applicants who are resident in the UK and the Republic of Ireland only.

2. For Diplomatic or Official passport holders, as well as official visits, the lodging of visa applications and collection are made at the Algerian Embassy.

3. Regardless their age, kids travelling with parents need a visa. Application must be made should they use their own passport to travel. In case kids are on the parents'passport, only two photographs are required in addition to the parent's application.

Standard Documents:
1. Two application forms fully completed and signed by the applicant.
2. Passport valid for at least 6 months.
3. Two recent passport size photographs (to be attached to each application)
4. Letter of Employment or Evidence of Activity
5. Additional documents



Payment & Fees


1- Visa fees will vary according to visa type (single or multiple) and nationality.
2- Payment is to be done in English Pounds , by cash, or by Postal Order made payable to the "Algerian Consulate". (For applications sent by post, we advise to use Postal Order)

Notice:

1- Apart from the applicable fees shown in the table above, the consulate does not request additional fees for urgent visas.
2- We regret that from Monday 28th November 2005, we no longer accept payment by cheques.



Important Notice


1. Processing of an application may be delayed if prior agreement by Algerian authorities is required. Furthermore, the Consulate reserves the right to request additional documentation from applicants.
2. 2. For applications made by post and according to Royal Mail Pricing List, it is advisable to include a Special Delivery self addressed envelope (up to 500 g, use the £4.50 stamps not the white SD Sticker). Applicants from the Republic of Ireland should include a £5 postal order instead. Please note that applications made by post can take up to 10 working days.
3. When applying by post, please make sure you indicate the date of entry on the application form.
4. We regret that we cannot accept applications made by fax.
5. The Algerian Consulate declines any responsibility for the loss of documents sent by post .
6. Applicants should make travel arrangements to Algeria based on the date of entry indicated on their visa. Applicants should not arrive in Algeria before that date.
7. Applicants should leave Algeria before the expiry date shown on the top right hand corner on the visa sticker.
8. The date of departure does not affect the processing time of the visa.
9. Visa applications dropped into the consulate letterbox will not be processed.
10. The consulate is not responsible for any delays caused by late submission of documents by courier and visa service companies.
11. Visa applications with missing documents including passport will not be processed.
12. Business visas do not allow the applicant to work.
13. The maximum period of effective stay in Algeria is 180 days per year.




Due to the increasing number of cases occuring after summer holidays when Algerian families try to return to the UK, parents holding legal residence status in the UK are kindly reminded that they must ensure that their children's UK immigration status is evident in the passport before they travel from the UK to Algeria.

UK born children added to their parents' passports or holders of individual passport must bear the UK immigration status endorsement prior to their depart from the UK.

Further information can be found on the Home Office web site www.ind.homeoffice.gov.uk/contactus/immigrationsenqueris or contact the Algerian consulate in London.