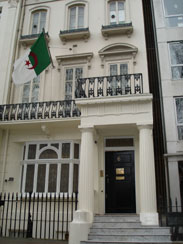 Kafala (Adoption) - Last modified: 12 March 2007


Algerian Nationals registered at the Consulate in London can apply to adopt (Kafala or Recueil Legal are the words used for in the Algerian Legislation) an Algerian infant.

The Application file must be lodged at the Algerian Consulate in London to be forwarded to the Ministry of Employment and National Solidarity.

The Agreement for Kafala is given by a National Commission on the basis of the applicant's personal, social and professional profile and the results of the social investigation carried out by the Consulate.

Applicants should obtain the official agreement of their British Local Authorities before submitting their application file to the Algerian Consulate.

It is advisable to seek an appointment with the Consul or his Deputy for further information about this procedure.

How to apply and documents required please see, Guidance Notes.



Death of Nationals


One of the main tasks of the the Algerian Consulate is to provide assistance to families of Algerian Nationals who die abroad. The consular officer is committed to assist the family in making arrangements with local authorities for the preparation and transfer of the remains of the deceased, in accordance with the family's wishes and local regulations.

In case of death of an Algerian national, the Consulate should, with no delay, be contacted in order to inform the family and provide assistance and advice, if necessary.

All administrative formalities (Paperwork) are dealt with by the Funeral Services (Undertaker) appointed by the deceased's family or relatives. On the request of the family, the Consulate can recommend reliable Undetakers.

The Consulate informs the family and the Algerian Authorities about the death, the date of arrival of the deceased and issues the " Certificat de Transfert de corps".

In order to obtain this document, the following documents are required:

1. Medical Certificate (Freedom from infection).
2. Death certificate.
3. "Out of England" issued by the Coroner.
4. Embalming Certificate issued by the funeral services.
5. Certificate stating that the body has been laid out according to Islamic rituals.
6. The identity documents of the deceased.