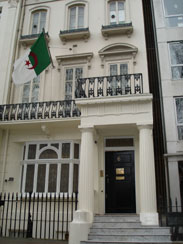 Mobile Consular Services 1 2 3 4 5 6 7 - Last modified: 22 August 2007


MOBILE CONSULAR SERVICES

Following a programme set up by His Excellency the Ambassador, the Consulate held its first mobile consular service session in Dublin on the 4th of November, 2006. This operation entails the provision of consular services every term in cities where there is a strong Algerian presence.
The aim of the project is to reduce the amount of travelling needed to the Consulate in London and to encourage direct contact between the Administration and Algerian nationals so that their concerns and complaints might be dealt with more effectively.
The trail run in Dublin was very successful and has encouraged us to extend this operation to other towns in the United Kingdom and Ireland.
For the month of April, 2007, there will be mobile consular services offered at the following venues:

1. Dublin, April 7th, 2007

Place: Algerian Community Centre
19 Belvedere Place
Dublin 1
Time: 10 a.m. to 5 p.m.

2. Manchester, April 21st , 2007

Place: Clegg Suite
Princess on Portland Hotel
101 Portland Street
Manchester M1 6DF
On the corner of Princess St./Portland St.
(A few minutes' walk away from Oxford Road and Piccadilly Train Station)
Time: 10 a.m. to 5 p.m.

3. Glasgow, April 28th, 2007

Place: 39, Napiershall Street
Glasgow G20 6AZ
Time: 9a.m. to 5p.m.
Future operations: Belfast, Cardiff (venues are in the process of being booked)

Consular Services to be provided:

· Submission of applications for initial consular registration
· Submission of application for passport renewal (extension of validity of passports of nationals already registered can be done the same day)
· Submission of applications for national identity cards
· Registration of marriage and issuance of family booklets (can be done the same day)
· Registration of births (can be done the same day)
· Paternal travel authorisations (can be issued the same day)
· Transcription of children's names on parents' passports (can be done the same day)
· Power of attorney "Procuration" (can be dome the same day)
· Accommodation Certificate (can be done the same day)
· Submission of application for laissez-passer
· Submission of visa application
· Submission of application for deferment of, or exemption from, military service

All other legal of social issues can also be discussed with the Consul.

We would like to remind you that operations which cannot be completed the same day for logistical reasons will be processed by the Consulate in London the following week and sent to the persons concerned by post.

Algerian nationals seeking administrative services are kindly requested to visit the Consulate Website www.algerianconsulate.org.uk to enquire about forms and documents required for each service. It will help us deal rapidly and more efficiently with all applications submitted.

Algerian nationals living in Ireland should be aware that charges for Consular services are payable in sterling and not in euros. Thank you.